IVF with donor sperm - Anonymous or open
During the consultation prior to starting treatment we explain about the diverse types of donor sperm available for insemination or IVF. We advise on the choice of donor, on the possibilities for buying donor sperm in the sperm banks e.g. European Sperm Bank or Cryos International with whom we work with. It takes both time and thought to come to just the right decision. We will also talk about the emotional and practical aspects of making the decision on behalf of one's child. This can be more difficult than one might imagine, and all parents, both men and women have their own individual considerations.
We always recommend that parents are completely open and honest to the child about how it came to the world – regardless of family patterns. When the child begins to ask: Who is my father? Are you cordially welcome to visit us at Vitanova. Then we show the clinic and tell about us. It is always a magnificent pleasure to see "our" children.
If you choose to buy donor sperm in one of the sperm banks, you can purchase extended profiles on both anonymous and open donors. A profile can be a photo of the donor as a child, a text he has written about himself or other personal information.
RESERVATION OF DONOR SPERM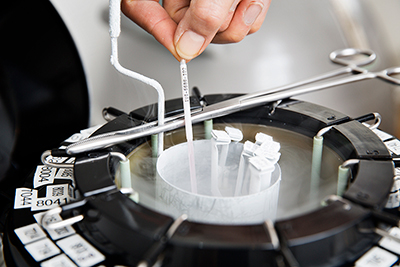 If you choose to buy donor sperm in one of the Danish sperm banks it is important that you do it after the initial consultation and in appropriate time before treatment begins. The donor sperm will be transported to Vitanova and we store it under certified conditions. It costs a yearly fee to have a depot at Vitanova, please see price list.
IF A CHILD DEVELOPS A DISEASE
According to the EU Tissue and Cells directive, all clinics are obliged to report to the sperm bank if a child is born, or later, develops a disease that may be inherited from the donor. This also applies to unborn children. It is very important to contact us if you are in this situation. When we contact the sperm bank because of the suspicion of inherited disease, the sperm bank stops using the donor until it is examined whether the disease originates from him.
ANONYMOUS DONORS
Fortunately, there are very many young Danish men who think it is quite natural to donate sperm. Most of them prefer to remain anonymous donors, meaning that neither the parents, children nor the clinic can know who they are.
OPEN DONORS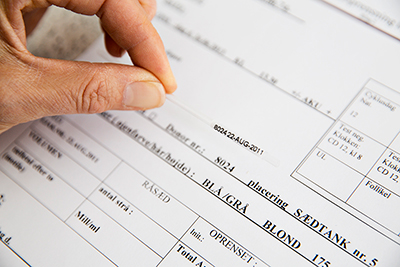 The open donor has given his permission enabling the child after its 18th birthday to contact the sperm bank and be informed of the identity of the donor. Neither the clinic nor the parents may be informed of his identity. As a parent one must realise that even though the sperm comes from an open donor, he will never become a father to the child. A father is physically present in the life of the child and together with the mother creates the best conditions for him or her.
PRIVATE DONOR – SINGLE WOMAN AND LESBIAN COUPLE
If you know a man who is willing to be the donor – and thus the legal father – for your child, this is allowed. He must understand that the legislation about testing donors applies just as much to him as to ordinary donors whose sperm can be ordered from sperm banks. He will therefore need to be tested for HIV, hepatitis, syphilis and chlamydia, and give an account of any hereditary illness in his family via a questionnaire and an interview with us. We recommend that the donor deliver sperm to Vitanova for freezing and storage in appropriate time before you come for treatment. Frozen sperm can be kept for a very long time when it is properly stored.
We recommend that you both come to the consultation with us. It is best that the donor knows as much as possible about the practical side of the donation. We will also want to talk to both of you about how you imagine the future for you and the child. It is important for both child and donor that you have clear agreements about his role in relation to you and the child.
PRIVATE DONOR – HETEROSEXUAL COUPLE
The most recent legislation on fertility treatment makes it possible for a heterosexual couple to use a private donor. This could be a friend or a relative. The donor will have no legal or economic responsibility for the child. It is the man in the couple who will be the child's father. There is no obligation to report the donor's identity to the authorities. This means that the arrangement is an agreement solely between the two of you and someone you know who is willing to help you to become parents.
But you should note that, as mentioned above, a private donor is in the same position as those who donate their sperm to sperm banks about genetic screening, testing for HIV and hepatitis, and giving an account of any hereditary illness in his family.